2003 PENGUIN INTERNATIONAL CHAMPIONSHIP
SHERIDAN SHORES YACHT CLUB
WILMETTE, IL.
By John MacCausland
This year's event was held on Lake Michigan.  Twenty three boats, nine from the East Coast were on hand to sail for the International Championship.  This event has been held annually since 1941, needless to say there is plenty of history behind this trophy.
Day one got off without a hitch.  During the morning we measured all the boats and checked their sails.  After a quick lunch it was out to the lake for the first two races of the regatta.  The conditions were light, four to sic knots but pretty steady.  After the two races that were sailed many boats had good scores to start the regatta off with. 
Day two dawned very hot, humid and no wind.  We all stayed ashore to wait for the wind and had lunch and an afternoon snack.  Then late in the day a little wind appeared on the lake and off we went out to the lake.  The committee was able to run one race before what little wind there was finally died. 
Day three was much the same as day two, hot, humid and no wind.  Just after lunch out to the lake we went to try for some more races.  Again the committee was only able to run one race before the wind shut down for the day.  With only four races completed we did not have a throw out and had to count all our races. 
John & Erin MacCausland came out on top to win the 2003 International Championship.  Defending champions Steve Lavender and Jory Hanselman finished second.  Past International Champion Sandy Rapp & Margaret rounded out the top three.
Along with the racing there were parties each night with the kids and adults having a great time.  A job well done to all that were involved in running this event.
OVERALL RESULTS
<![if !vml]>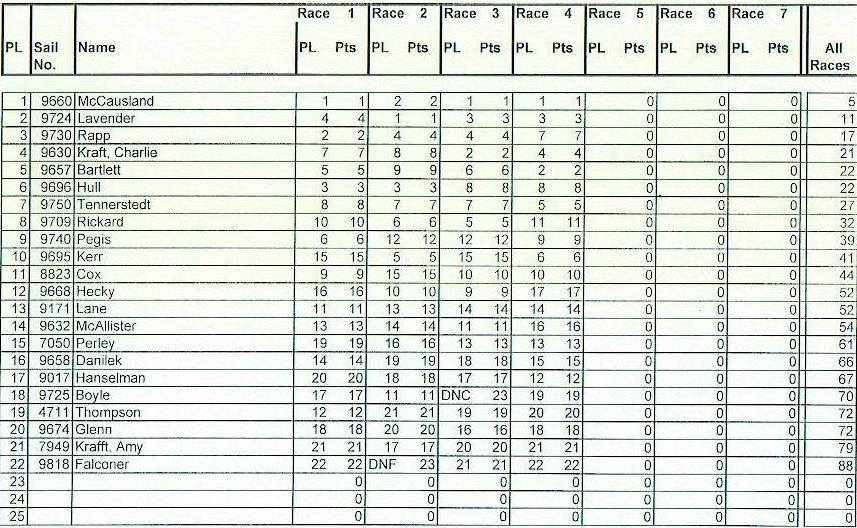 <![endif]>