Penguin and Comet Frostbite
Tred Avon Yacht Club | November 06, 2021
]
Penguin (8 boats) (top)
Series Standing - 5 races scored
Information is final.
Regatta results last updated: Saturday, November 06, 2021 2:18:34 PM CDT
<![if !supportLineBreakNewLine]>
<![endif]>
Pos

Sail

Boat

Skipper

Yacht Club

Total

Pos

1

9669

Lady Bug

RJ Bay /
Pea Pebbles

WRSC/

3

1

1

1

[4]

6

1

2

9677

Family Ties

William Lawson /
Colette Preis

SSA/

2

2

[9/RET]

2

2

8

2

3

9478

Otter B

Charles Krafft /
Donna McKenzie

SSA/

4

3

2

[5]

1

10T

3

4

9662

Against The Grain

Spencer McAllister

TAYC

1

[4]

3

3

3

10T

4

5

9632

SPAX

Sandy McAllister

TAYC

[7]

5

5

4

6

20

5

6

9631

Helium

Sarah Freund /
Trevor Carouge

CYC/

6

6

4

[7]

5

21

6

7

8241

Michael BAugh /
Roger Pickall

Cambridge Yacht Club/

[8]

7

6

6

7

26

7

8

9730

Evelyn

Jeffrey Cox /
Ian Cox

TAYC/

5

8

[9/DNS]

9/DNS

9/DNS

31

8
Regatta photos by Al Schreitmueller at 2021 Penguin / Comet Frostbite - TAYC - SpinSheet (smugmug.com)
The 2021 Tred Avon Yacht Club Fall Frostbite was sailed on Saturday, November 6th.  8 Penguins along with 5 Comets sailed the 5 race series under the direction on PRO Katrina Greer.  The temperature and wind made the event live up to its name, with low 50's degree air temperature and wind in the 5-12 range, or so out of the northeast, and clouds that intermittently blocked the sun.  The courses were windward leeward with a midcourse start/finish line, which in typical TAYC fashion was an obstruction when you weren't starting or finishing.  In race 1, Spencer McAllister took advantage of a nice lift on the left side of the course to lead around the one lap course and take the horn.  In race 2, RJ Bay, sailing with bags of pea gravel and water bottles, worked the shifty upwind leg to his advantage and took first in the two lap race.  He continued his winning streak taking the next two races.  Bill Lawson and Colette Preis got caught on the wrong side of one of the not infrequent auto-tack shifts and ended up retiring from that race as they had a considerable amount of water to bail out.  Sarah Freund sailing with Trevor Carouge in their newly acquired Burtis Penguin finished a point behind Sandy McAllister, who was sailing with bar bell weights. Michael Baugh, sailing with longtime Penguin sailor Roger Pickall in Roger's old Horner Penguin was a welcome addition to the fleet, sailing in his second Penguin regatta.  Jeff Cox sailed solo but a broken tiller in race 2 ended his day on the water.  Congrats to RJ Bay, winner of the Turkey Bowl.  The Turkey Bowl was awarded to the winning boat at the Trippe Creek Penguin Frostbite and was a rededicated trophy donated by Annalise Fink that her husband had won back in the 1960's sailing on his MORC yacht, "Turkey".  RJ will get to engrave "Lady Bug"  on the trophy.  A perpetual for second place was awarded to Bill Lawson and Colette Preis, who placed second counting 4 2nd place finishes after dropping their score from race 3.  The second place perpetual was originally awarded at the Island Creek Penguin Frostbite, and then as the second place trophy at Trippe Creek.  We are glad to have these perpetuals back in circulation after a 3 year hiatus.
Some of Al Schreitmueller's photos are attached below.  The complete gallery is at the  spinsheet.com photo gallery. (along with a bunch of Comet photos)
<![if !vml]>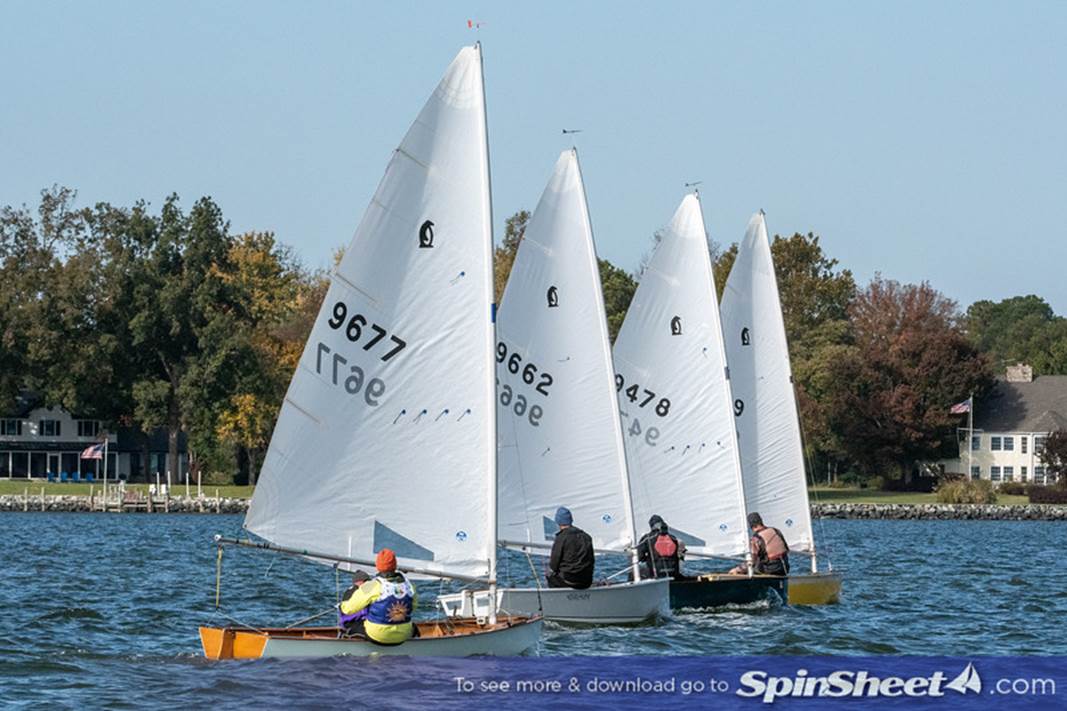 <![endif]>
RJ Bay leading the pack just sailing upwind just after the start.  Photo by Al Schreitmueller.
<![if !vml]>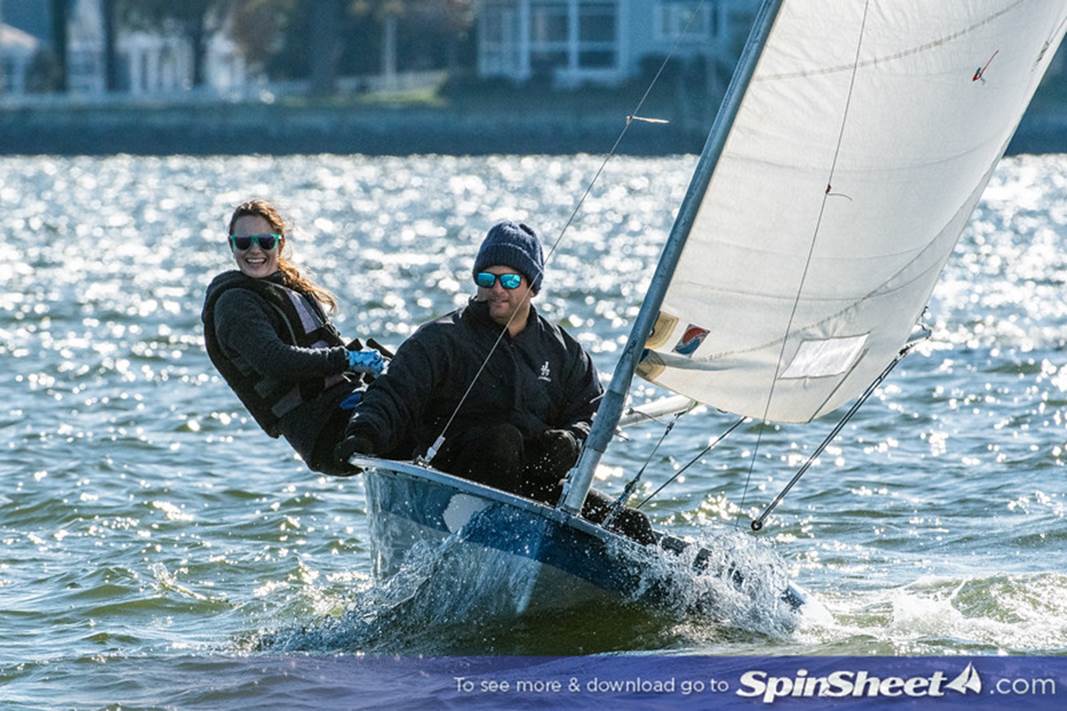 <![endif]>
Sarah Freund and Trevor Carouge enjoying Penguin racing.
<![if !vml]>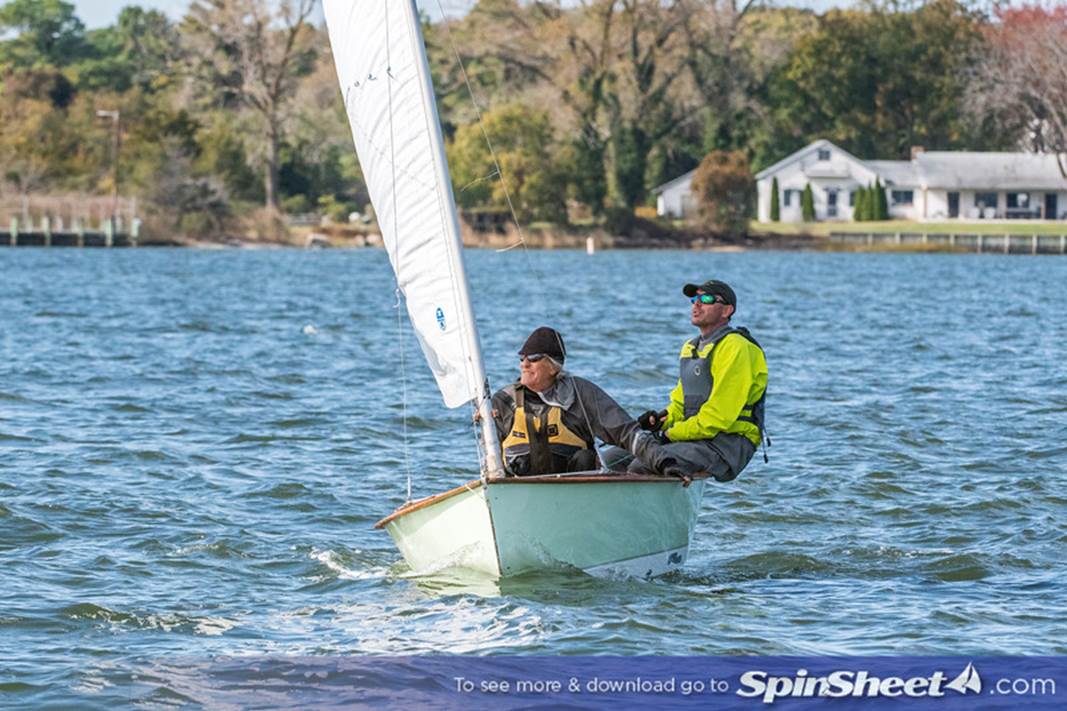 <![endif]>
Roger Pickall sharing his Penguin knowledge with new boat owner Michael Baugh.
<![if !vml]>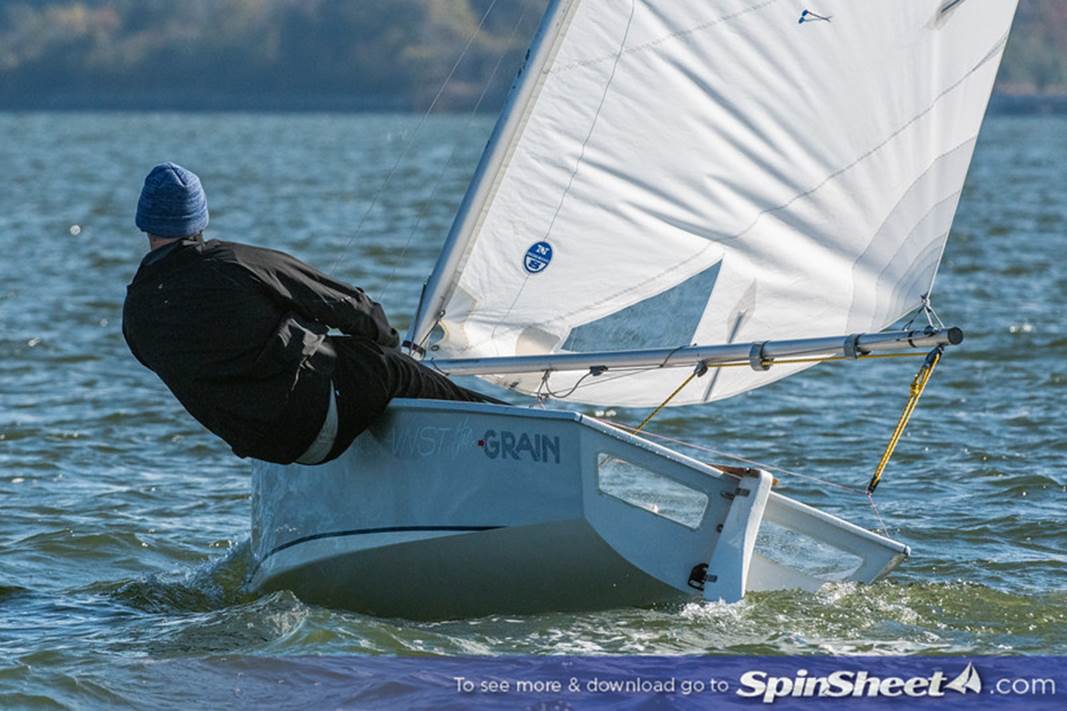 <![endif]>
Spencer McAllister missing his crew to help keep the boat flat.
<![if !vml]>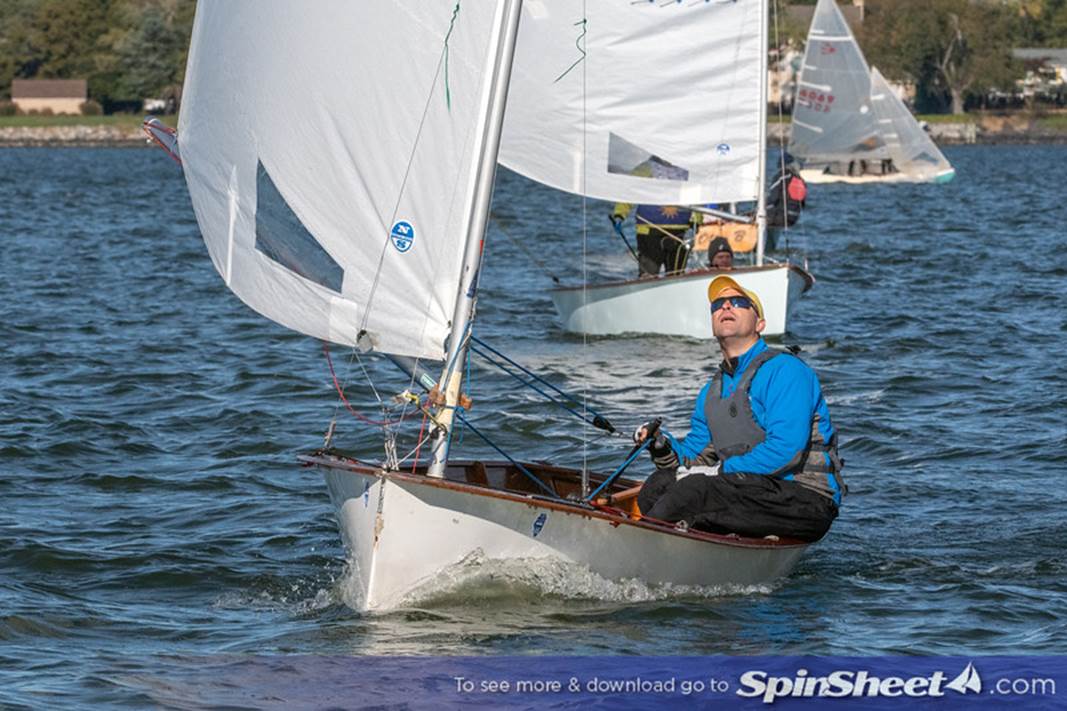 <![endif]>
Jeff Cox sailing before the start.  Wonder what's up there?
<![if !vml]>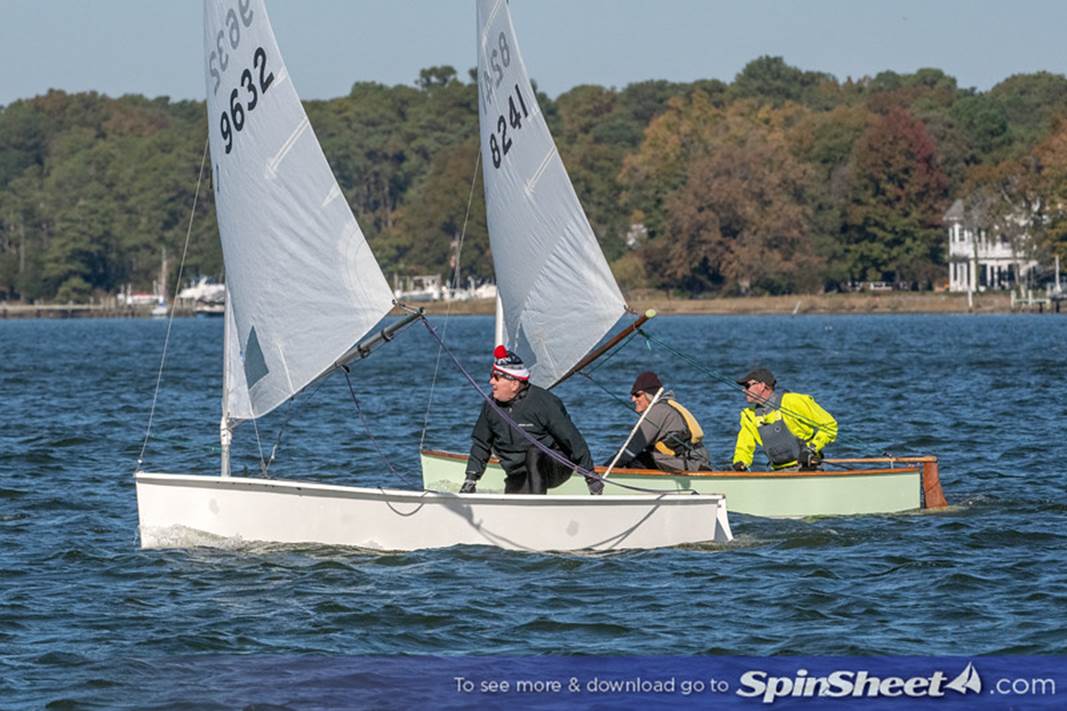 <![endif]>
Sandy McAllister working on boat balance.  Michael Baugh with Roger Pickall to windward.
<![if !vml]>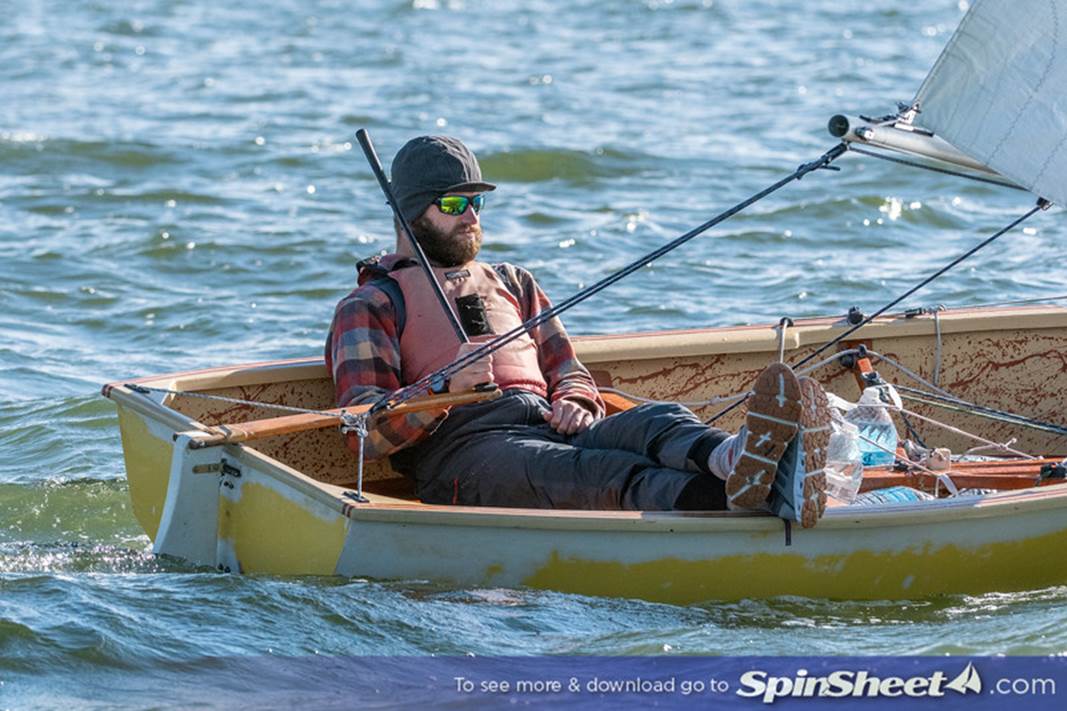 <![endif]>
RJ Bay chilling between races. Photo by Al Schreitmueller.
<![if !vml]>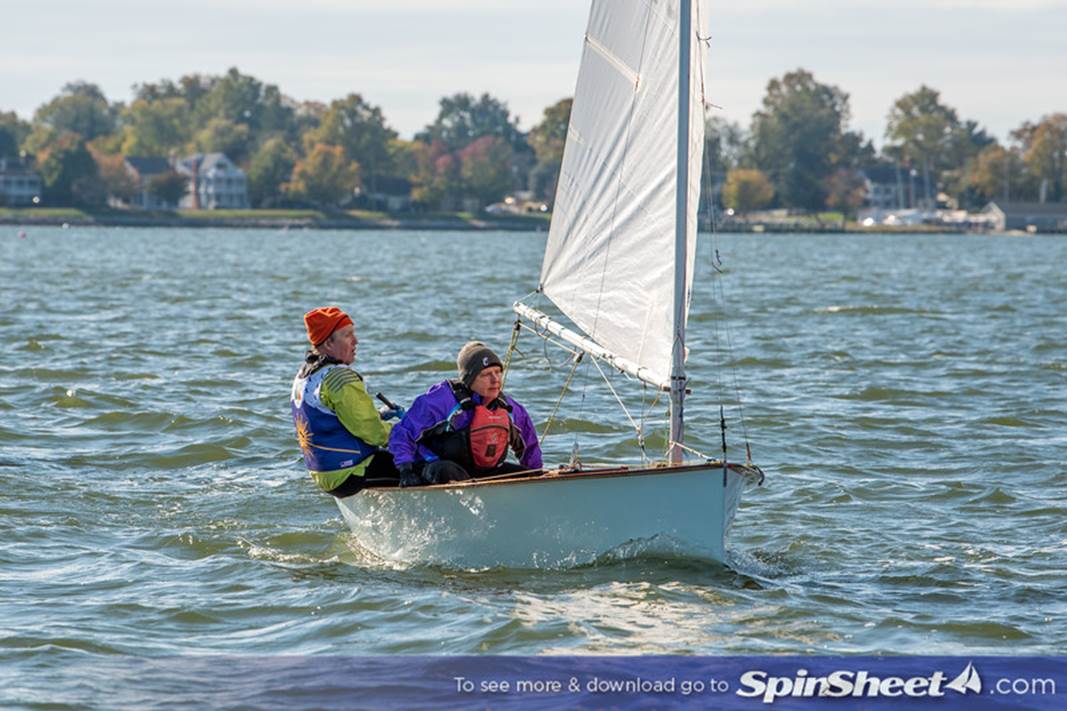 <![endif]>
Bill Lawson and Colette Preis bundled up on a beautiful day for Penguin frostbiting.
<![if !vml]>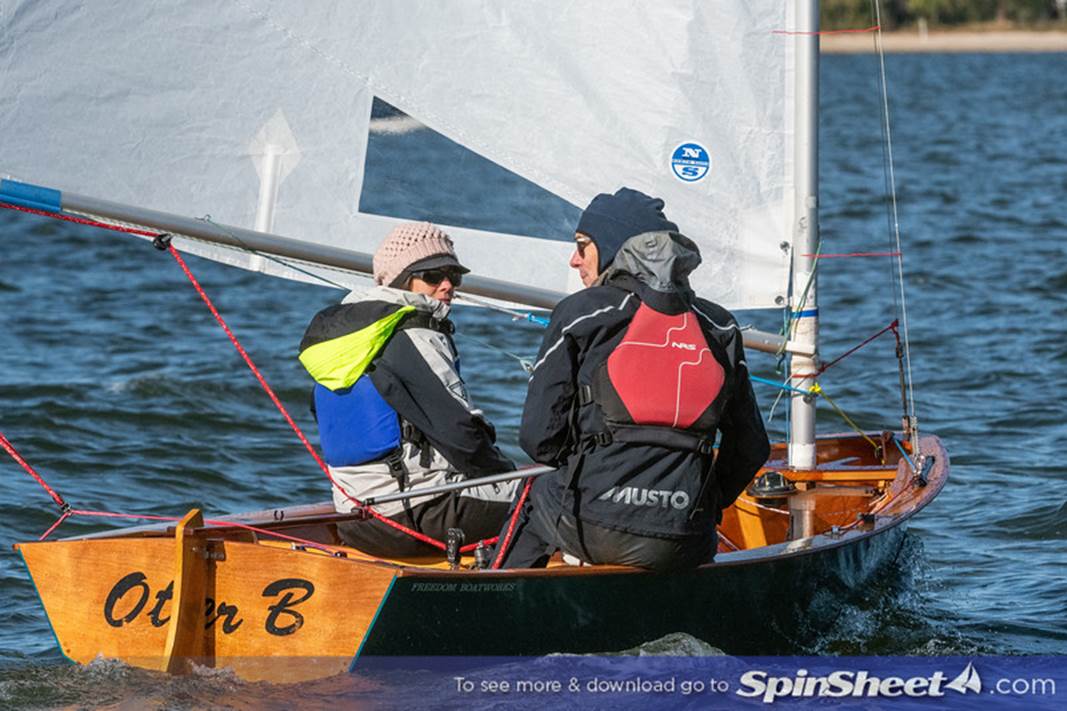 <![endif]>
Charlie Krafft and Donna McKenzie in "Otter B", as in, we "Otter B" paying better attention to those shifts.