Penguin (8 boats) (top)
Series Standing - 3 races scored
Information is final.
Regatta results last updated: Saturday, November 07, 2020 2:01:48 PM CDT
Click on race number to view detailed race information.
Pos

Sail

Boat

Skipper

Yacht Club

Total

Pos

1

9675

Bucket

Charles Krafft /
Cairn Krafft

SSA/

1

1

2

4

1

2

9657

C-Biscuit

Chris Conway

Annapolis Yacht club

3

3

1

7T

2

3

9572

Evelyn

jeffrey Cox /
Ian Cox

Tayc/

2

2

3

7T

3

4

9660

Rex

Spencer McAllister /Caroline Corson

Tred Avon Yacht Club

6

4

4

14

4

5

9632

Spax

William McAllister / Mia Walker

Tred Avon Yacht Club

5

5

5

15

5

6

9140

Cheshire Cat

Andrew Eyring / Jef Eyring

AYC

4

6

6

16

6

7

8823

Fox n Sox

Sewall Cox /
Cara Grey

Miles River Yacht Club/

7

7

10/DNF

24

7

8

9170

White Knight

Matt Lane/ Annabelle Lane

Tred Avon Yacht Club

10/DNS

10/DNS

8

9

9627

Zoom Zoom

Read Beigel

Potapskut Sailing Association

10/DNS

10/DNS

10/DNS

27

9
TAYC Penguin Frostbite
The 2020 edition of the Tred Avon Yacht Club Penguin Frostbite was held on Saturday, November 7th.  The weather couldn't have been better with 70 + degree temperature and clear, sunny skies for the 8 teams competing.  Unfortunately, PRO Ken Davis could not conjure up more than the disappointing wind forecast which was in the 0-2 mph range, with an occasional puff to 3.  After a brief delay for the fog bow to burn off (a rainbow-shaped fog formation over the shore opposite the club), the fleet headed out for what turned out to be three competitive, if not patience trying races in the south to southwesterly breeze.  As is the Penguin Class tradition, family boats were in abundance with two Cox boats, Jeff sailing with son Ian, and Sewall sailing with her cousin Cara Grey.  David and Cathy Cox were nearby to cheer them on.  There was hope for three McAllister Penguins, with Sandy sailing with Mia Walker, and Spencer sailing with Caroline Corson.  Max opted to run the Mako ferrying Spinsheet Photographer and former Penguin sailor Will Keyworth around the course to get some action shots of the boats on the race course.  There were also two Lane boats with Matt sailing with daughter Annabelle and Bill not in his boat, but loaning it to Penguin prospect Andrew Eyring who sailed with his father.  Chris Conway sailed with lots of water jugs as his daughter Campbell, who is his regular crew, was off playing in a lacrosse match.  Charlie Krafft sailed with his wife, Cairn to round out the small but competitive fleet.
The event served as the Penguin Atlantic Coast Championship.  The half-model perpetual was first sailed for in 1953 and won by William Lane Sr. in 1956, and Jeff Cox most recently in 2016, 17, and 19.  The event also served as the Lawson Rum Bucket, which was awarded to Chris Conway, winner of Race 3.  This traditional western shore event was first sailed for in 1957 and has been hosted at multiple venues over the years including many years on the Rhode River and more recently at Gibson Island.  The perpetual is a large brass apple bucket that Penguin sailor and three-time national champion Walter Lawson found in a Georgetown (DC) antique shop.  The bucket now sports a hefty, solid walnut base that Walt's son, and current Penguin International champ, Bill, made for it. In prior years, winning this put a financial burden on the victor, as the hand engraving cost was approaching $100.  This provided a tough choice for a leading boat in many a regatta, to courteously let a close competitor get ahead to avoid the engraving bill.  The deed of gift for the trophy stipulates that it shall be competed for actively in the spirit of building camaraderie among the sailors, on and off the water.  For years it was used to mix up a strong potion of hot-buttered rum, which accompanied by warm chili, was a welcome repast for many a cold frostbite sailor.  This was a precursor to the popular eastern shore end of season frostbites that were sailed for thirty years from 1989 through 2018 and hosted by the Lane (and Cox). Corkran, and Thompson families and an army of TAYC volunteers on the Upper Miles, Island Creek and Trippe Creek.  We are looking forward to that event resuming at a new venue next year.
<![if !vml]>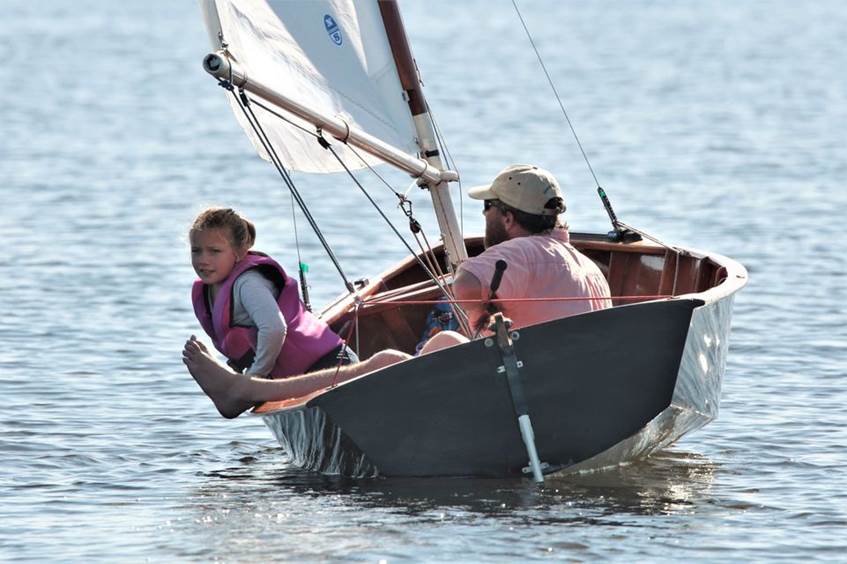 <![endif]>Photos taken by Will Keyworth are available on the Spinsheet photo website https://spinsheet.smugmug.com/SpinSheet/2020-Events/2020-Penguins-in-Oxford/