Oxford Regatta One Design -
Tred Avon Yacht Club | August 10-11, 2019in
Penguin (top)
Series Standing - 6 races scored
Regatta results last updated: Sunday, August 11, 2019 11:25:15 AM CDT
<![if !supportLineBreakNewLine]>
<![endif]>
Pos

Sail

Boat

Skipper

Yacht Club

Total

Pos

1

9677

Family Ties

William Lawson /
Colette Preis

Severn Sailing Association/

1

1

[4]

1

1

1

5

1

2

9730

Evelyn

jeffrey Cox /
Ian and Ellie Cox

tayc/

2

3

2

3

[5]

3

13

2

3

9660

Rex

Jonathan Bartlett /
Annie Bartlett

Annapolis Yacht Club/

[4]

4

1

2

4

4

15

3

4

9478

Wooden Bucket

Charles Krafft /
Donna McKenzie

SSA/

5

2

3

5

[6]

2

17

4

5

9657

C-Biscuit

Chris Conway /
Campbell Conway

Annapolis Yacht Club/

3

[6]

6

4

3

5

21

5

6

963

Mumble

Tait McCarthy /
Finn McCarthy

TAYC/

6

[7]

5

6

2

6

25

6

7

9140

Cheshire Cat

Bill Lane /
Katrina Greer

CBYC/TAYC/

[7]

5

7

7

7

7

33

7

8

9675

Grey Bucket

Martin Krafft /
Cairn Krafft

-/

[8]

8

8

8

8

8

40

8
The Tred Avon Yacht Club Annual regatta was held on August 10th and 11th, 2019.† After some pre-race juggling by the organizing authorities, due in part to the addition of the Albacore Class and return of the Comet Class to the Foxtrot course, the Penguins were moved to the Delta course with the junior sailors in the 420ís and Laser Radials.† Well there were 27 420 teams and 23 Radials, so the PRO, Elizabeth Wainwright had her hands full.† A shifty north easterly breeze didnít help as getting and maintaining a square line was going to be difficult.† The RCís solution was the black flag, which they graciously kept up for the 8 boat Penguin fleet.† The fleet sailed off of Bachelorís Point, which is at the confluence of the Tred Avon and Choptank Rivers.† The Choptank lived up to its name, providing lumpy sailing conditions, although the chop was created more by the passing motorboats, and flotilla of spectator and coach boats, than by any wind driven waves.† Bill Lawson, who celebrated his 60th birthday on the 11th, did it in style by winning 5 of the 6 races, taking the regatta by a comfortable margin.† Bill sailed with his wife, Collette.† Jeff Cox sailed with his two children, Ian and Ellie, and had a remarkably consistent series to take second place.† Jeff gave each child an assignment Ė Ian was watching for windshifts and waves.† I think Ellie may have been looking out for crabs and other sealife.† Whatever is was, it worked to keep peace on the boat and Jeff sailed a great regatta.† Jonathan Bartlett, sailing with his daughter Annie, have a string of 4ths, with a bullet and deuce thrown in to take third.† Charlie Krafft, sailing with Donna McKenzie took 4th in Wooden Bucket, the top classic Penguin.†† Chris Conway, sailing with his daughter Campbell took 5th.† Tait McCarthy sailing with his son Finn in one of the Oxford Boat Yard Penguins† took sixth, but was second in race #5 and never far from the top of the fleet.† Bill Lane, sailing with Katrina Greer took seventh and Martin Krafft, sailing with his mother, Cairn, rounded out the fleet.† The sailing was tricky, figuring out the numerous windshifts and holes.† Downwind, we had some excitement as the 420 fleet was started just as we were approaching the starting line on our downwind leg.† With the excluded start finish line, we had to sail outside of the line as 27 boats created a nearly impenetrable wall that we had to sail through.† The trophy presentation at Harleigh was as magnificent as ever, with clear, sunny skies, and low humidity for a pleasant August afternoon celebration.
Photos by Dave Dunigan available at
send this link to anyone who might like it. Pics can be downloaded and printed.
https://www.flickr.com/photos/davedunigan/albums/72157710292814902/with/48531076941/
<![if !vml]>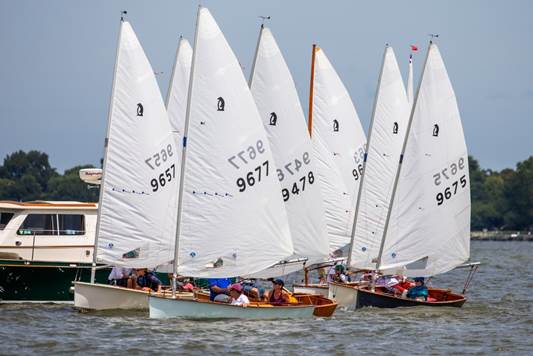 <![endif]>