Trippe Creek Penguin Frostbite Regatta 2018
The 2018 edition of the Trippe Creek Frostbite went off smoothly on Sunday, October 28th, after being delayed a day.  The delay was the right move, as Saturday was windy, wet, and chilly, not exactly conducive for the venue at Jim Thompson's.  Sunday, the skies were gray, but the early sprinkles quickly dissipated and sunglasses were in order, between the shifting clouds.  Freshly shucked oysters, barbecue from the smoker, the wide assortment of breakfast and then dinner foods and desserts, and of course the bar, kept the competitors and spectators well fed and hydrated.  Tot O'Mara ran five triangle course races in the 5-12 knot breeze, which was mostly west but shifted continually.  The race course was not without the usual Trippe Creek challenges with puffs, holes, wind lines, and other features that make sailing here an experience.  Fifteen Penguins competed.  The fleet was a bit aggressive, with numerous general recalls, prompting Tot to make use of the I-flag (one-minute) rule for races 2,3, and 5.  With no capsizes this year, the puck-up award went to Tot O'Mara for the starting lines.  (Unexpected last minute wind increases and an outgoing tide likely contributed to the large number of general recalls, so the award wasn't merited, but Tot accepted it in good spirits.)
In race 1, Bill Lawson and Colette Preis worked into the lead on the first beat and extended for a comfortable win.  Race 2 saw Spencer McAllister, sailing in the Class-owned boat, 9575, get off the starting line clean, sail up the left side of the first beat, catch the shift at the wind line, and round the weather mark first and extend over the remainder of the course for a bullet.  In race 3, under the I flag, Spencer reached down the line, did a dip at the end and had a beautiful start at the pin, only to be notified part way up the weather leg that he had been called over early.  Oops.  Bill Lawson took the win in race 3.  Race 4 was the crew race.  Hayley Jenkins took the helm from Alan Campbell, got a clean start and sailed smartly for a convincing win.  Liam Edgell sailed Spax with Sandy McAllister as the only other boat that had a crew willing to sail in the tricky conditions. 
This year, we had a single-handed division, allowing skippers with no crew to sail solo without adding ballast.  The fleet was started together and  scored together but the solo sailors who weren't up to weight were theoretically then scored in their own division.  As the breeze was up at times, sailing solo wasn't as advantageous as having a crew.
This commemorates the thirtieth anniversary of the "end-of –season" home style Penguin Frostbite, first dreamed up by Bill and Barb Lane and David and Julie Cox who approached Bill's parents, William and Alice Lane and suggested they host a regatta at their house on the Upper Miles River.  The name, UMPFR was coined and approximately 12 boats showed up for the inaugural event, with William Lane Sr. running the races off their dock.  The event quickly grew in popularity, attracting over 30 boats at its peak.  After 15 years, the time had come for the event to find a new home, as Alice Lane's health had declined.   She passed away a short while after the last event was held at their home.  The Corkran family stepped up, and hosted the Penguin sailors at the family homestead on the Island Creek.  The event name was changed to the ICPFR (or affectionately termed the icey-puffer), and the low key event, which typically coincided with Kim Corkran's birthday, which is in mid-November,  became a spectator draw with raw and steamed oyster, wood bonfires, and lots of opportunity for spectating – they even installed bleachers one year, as the race course was easily seen from the property.  A staple of the ICPFR were the hats, a different color each year, given to each competitor, as a memento of the event.  After ten years, the Corkran's were ready to pass the baton.  As Kim recounted, she and Henry .. were on Jim Thompson's boat in the Mediterranean and Jim summoned her below.  Kim thinking she had made some horrible faux pas, was quite concerned what this was about.  Jim stated as how he knew they were looking for a new venue for the ICPFR event, and offered up his place on Bailey's Neck.  The event would now be known as the TCPFR, or Trippe Creek Penguin Frostbite.  In 2018, we have just completed the fifth, with a total spanning 30 years, from 1989 – 2018.  Now those who received a commemorative hat will notice a discrepancy here as the hats have 1988-2018 embroidered on them.   A slight math error, but make no mistake, for the past thirty years this event has been the most well-attended Penguin event in the Penguin universe and is part of the glue that keeps Penguin sailing alive on the Chesapeake.
Position

Sail Number

Sailor(s)

Division

Boat Name/Club

Points

R1

R2

R3

R4

R5

1

Lawson, Bill

Family Ties

7

1

2

1

2

1

9677

Preis, Colette

2

Krafft, Charles

Gray Bucket

13

2

3

2

3

3

9675

McKenzie, Donna

3

Cox, Jeff

Evelyn

22

3

5

3

4

7

9730 (9572)

Loeser, Gabe

4

McAllister, Spencer

24

4

1

10

7

2

9575

5

Lane, Matt

White Knight

26

5

6

4

6

5

9170

Lane, Annabelle

6

Campbell, Alan

28

10

4

5

1

8

9609

Jenkins, Hayley

7

Langkammerer, Carl

Grace

31

6

9

7

5

4

7705

8

Krafft, Hank

Feather

39

8

7

6

9

9

9320

Wan-Ting Liao

9

McAllister, Sandy

Spax

41

7

8

8

8

10

9632

Edgell, Liam

10

Krafft, Amy

Georgy Girl

53

9

10

11

11

12

9676

San Louis, Karl

11

Rajacich, Matt

Pywackette

55

11

11

9

13

11

965

Baldwin, Arianna

12

Fahrmeier, Eileen

Airhead

59

15

13

13

12

6

9028 (9168)

Gladd,Matt

13

Ewers, Tripp

64

13

14

14

10

13

963 (9624)

Gibbons-Neff, Hayden

14

Cox, Sewell

Fox n Sox

70

14

12

12

DNF-16

DNF-16

8823

Izzy & Hayden

15

Majane, John

QE2

70

12

15

15

14

14

5282
A few blasts from the past.                                                                                                                                                                                                 
<![if !vml]>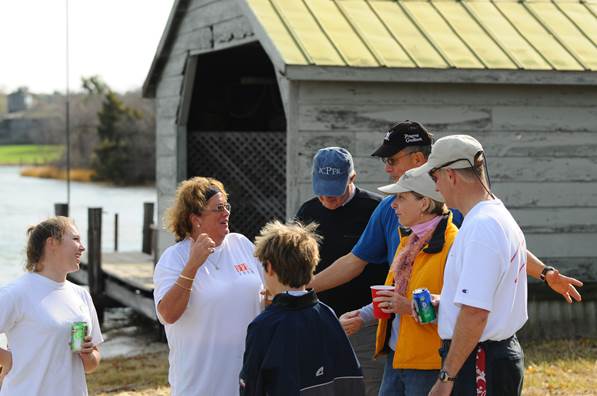 <![endif]>
Pucky Lippincott explaining the incident that led to Puck-up award to its creator, Paul Hull, and a group of onlookers, as Laura Biegel, the skipper who sent Pucky overboard, looks on.
Photo from ICPFR #5.
<![if !vml]>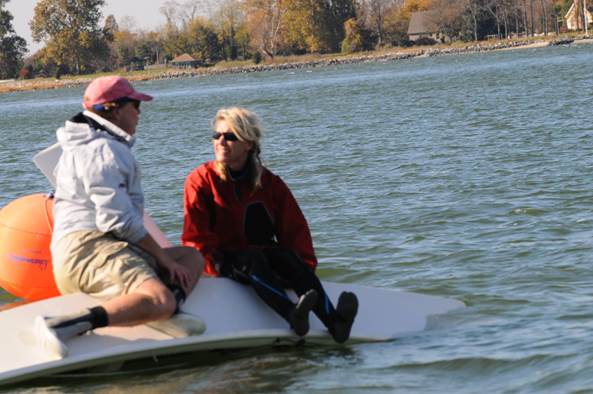 <![endif]>
Sandy McAllister demonstrating to his crew, Jen Edgell, at ICPFR 10 the advantages of a self-rescuing Penguin.