William H. Myers Heritage Regatta - International Penguin Championship
| August 22-23, 2015
Penguin (15 boats) (top)
Series Standing - 6 races scored
Information is final.
Regatta results last updated: Sunday, August 23, 2015 12:32:43 PM CDT
Click on race number to view detailed race information.
Pos

Sail

Boat

Skipper

Yacht Club

Total

Pos

1

9664

Sidewinder

Bob Lippincott/
Lizzie Dennison

Tred Avon Yacht Club/

3

1

[6]

1

2

4

11

1

2

9677

Family Ties

William Lawson/
Colette Preis

SSA/ SSA

2

4

1

3

[12]

2

12

2

3

9660

Jonathan Bartlett/
Annie Bartlett

Annapolis Yacht Club/ Annapolis Yacht Club

1

2

2

7

[11]

1

13

3

4

9478

Wooden Bucket

Charles Krafft /Donna McKenzie

SSA

[7]

5

3

2

1

3

14

4

5

9170

White Night

Jeffrey Cox/
Haden Gibbons-Neff

tayc/ TAYC

5

[7]

7

5

4

5

26

5

6

9668

Lumpy

Mike Hecky/
Rachel Hecky

Riverton/ Riverton YC

6

3

5

4

[13]

9

27

6

7

8823

fox in sox

David Cox/
cathy kramer

tayc/

4

8

4

6

[9]

6

28

7

8

4200

White Rabbit

Bill Lane/
Charlotte Cook

TAYC/ Tayc

9

10

8

8

3

[11]

38

8

9

7703

Thunder Chicken

Scott Williamson/
Ava Arepally

Tayc/ Tayc

8

9

[10]

9

6

8

40

9

10

9632

SPAX

Sandy McAllister / Liam Edgell

TAYC

[16/RET]

6

11

10

8

7

42

10

11

9576

Paget Kellogg/
Drew Kellogg

TAYC/

11

12

12

12

7

[13]

54

11

12

9168

Philip Logan /Emily Ranson

TAYC

12

11

[16/DNS]

11

10

12

56

12

13

9663

Blind Squirrel

Adison Parish/
Andrew Parish

TAYC/

[16/DNC]

16/DNC

16/DNC

16/DNC

5

10

63

13

14

9563

Feather

Hank Krafft

PRSA

10

[16/DNS]

9

16/OCS

16/DNS

16/DNS

67

14

15

5282

Q E II

John Majane/
Will Donald

SSA/

13

13

13

13

[16/DNS]

16/DNS

68

15
Notes
- Scoring System is RRS Low Point 2013-2016
- Finishes in [brackets] denote throwouts
- Click on race number to view detailed race information.
Information is final.
The 2015 Penguin Internationals were hosted by the Tred Avon Yacht Club in Oxford, MD and sailed in conjunction with the William H. Myers Heritage Regatta on August 22nd and 23rd.  The principal race officer for the event was the late William H. Myers daughter, Tot O'Mara.  15 Penguins participated in the event, with the predominant battle between eastern and western shore boats, with one out of bay boat, Class Secretary, Mike Hecky, sailing with his daughter Rachel, who hail from New Jersey.  Conditions Saturday were near perfect for Penguin sailing, with an 8 – 12 knot breeze, nominally from the northeast, but with shifts,  puffs, and holes to keep things interesting, or frustrating depending on which side of the course you were on.
In Race 1, Jonathan and Annie Bartlett got off the line cleanly, managed the shifty first leg and led around the two lap windward leeward course.  Going up the middle and staying in phase with the shifts seemed to work on the first lap, but it became clear during the second lap that the left was better, even if it meant tacking away from a lift to get an even bigger one with more pressure the further left you went.  Bill and Collette (Preis) Lawson finished second followed by Bob Lippincott with crew Lizzie Dennison.
In race 2, the wind was equally shifty, with momentary lulls followed by stiff blasts.  This time it was Lippincott followed by Bartlett with Mike Hecky taking third.  Clearly a modern boat day, with the fresh breeze and moderate chop, even though we were sailing up the Tred Avon to the east of the club in a relatively protected area.
In race 3, Bill Lawson led around the first lap, extended his lead on the second beat and won by a comfortable margin.  Charlie Krafft with Donna McKenzie followed in second until the top of the second beat in the Olympic course when Bartlett managed to get a little further left and rounded in second, holding that position until the finish.  David Cox, sailing with Cathy Kramer had a strong showing and finished fourth.
In race 4, David Cox and Charlie Krafft were battling it out for the lead, when David tacked a bit short of the windward mark layline, tried to shoot the mark, but managed to snag the anchor rode.  There was an ensuing pile up as the rest of the fleet quickly caught up and sailed into the tangle.  When all was said and done, several boats were doing extra turns.  Krafft led around the first lap of the Olympic course and the second lap, but let Lippincott get by in a tacking duel on the final beat.
At the end of day 1, Lawson was in the lead with 10 points, Lippincott had 11, and Bartlett 12.  Charlie Krafft and Mike Hecky were further back with 17 and 18.  David Cox was leading the grandmasters with 22, and his son Jeff Cox with crew Haden Gibbons-Neff had 24.
Sunday's forecast was for clear skies and low humidity, but not so much wind as Saturday.  Tot started the fleet promptly at 10:00 AM on a one lap windward leeward course with the wind out of the northeast.  Lippincott led at the windward mark with Bill Lane and Krafft close behind.  Krafft managed to work to leeward on the run and rounded the leeward mark in the lead.  Lippincott established a safe leeward after tacking onto port, but Krafft found slightly better pressure when he was forced to clear out to the right and was able to consolidate and hold on for the win, with Lippincott in second and Bill Lane with Charlotte Cook in third.  Bartlett, Lawson, and Hecky were a bit eager at the start, got caught over the line at the gun and had a difficult time recovering, finishing 11th, 12th, and 13th, drop races for all three.  Jeff Cox sailed well to finish fourth. 
For race 6, another one lap windward leeward, the wind shifted about 15 degrees to the right just before the start, favoring the committee boat, for one of the few times in the series.  Bartlett and Lawson got off  the line cleanly and led out to the left side, where it seemed all the pressure was (and less current) to lead around the course.  Lippincott, Krafft, and Jeff Cox were in the next group of boats.  The bottom started to drop out on the breeze, which made it especially difficult to get through some rogue motor boat chop on the run.  Bartlett won the race with Lawson second.  Lippincott hung in for a fourth, which put him in the lead for the regatta.  After trying for an hour and a half to set a course it was clear that a stable, sailable breeze was not going to happen, and the N flag went up.  Bobby Lippincott and Lizzie Dennison, and their 45 pounds of ballast, are our new Class champions.
The grandmaster award, for the highest finishing skipper over age 60 went to David Cox, even though Sandy McAllister just became eligible.  The top female skipper went to Adison Parish, and the Lawson family team award went to Bill and Collette (Preis) Lawson.  The top classic boat was Wooden Bucket sailed by Charlie Krafft and Donna McKenzie.  There were a large number of junior sailors participating in the event, including  the youngest skipper, Paget Kellogg sailing with his father, Drew.  Adison Parish was busy at a horse show on Saturday, but came out for the light air races on Sunday, taking a 5th in the first race of the day.  Scott Williamson was sailing with TAYC junior sailor, Ava Arepally, who managed to lose a tooth on the boat on Sunday (it was light, she was bored, and tooth was apparently ready to come out).  We were pleased to welcome Philip Logan sailing with Emily Ranson in the Class owned Penguin, Airhead, recently donated by Kevin Majane.  Hank Krafft was the only solo sailor.  John Majane, sailing with TAYC junior, Will Donald, was the oldest competitor.  Both Hank and John only raced on Saturday, although conditions on Sunday were more favorable for them.  Sandy McAllister with Liam Edgell, tested out the water in race 1 and unhappily reported that the jelly fish were out in force.
As always, TAYC did a superb job of hosting the event.  The weather couldn't have been better with mid 80 degree temperatures and low humidity, a treat for this time of year.  A stabler breeze would have been nice, but that is one of the challenges of sailing on the Chesapeake in the summer.
<![if !vml]>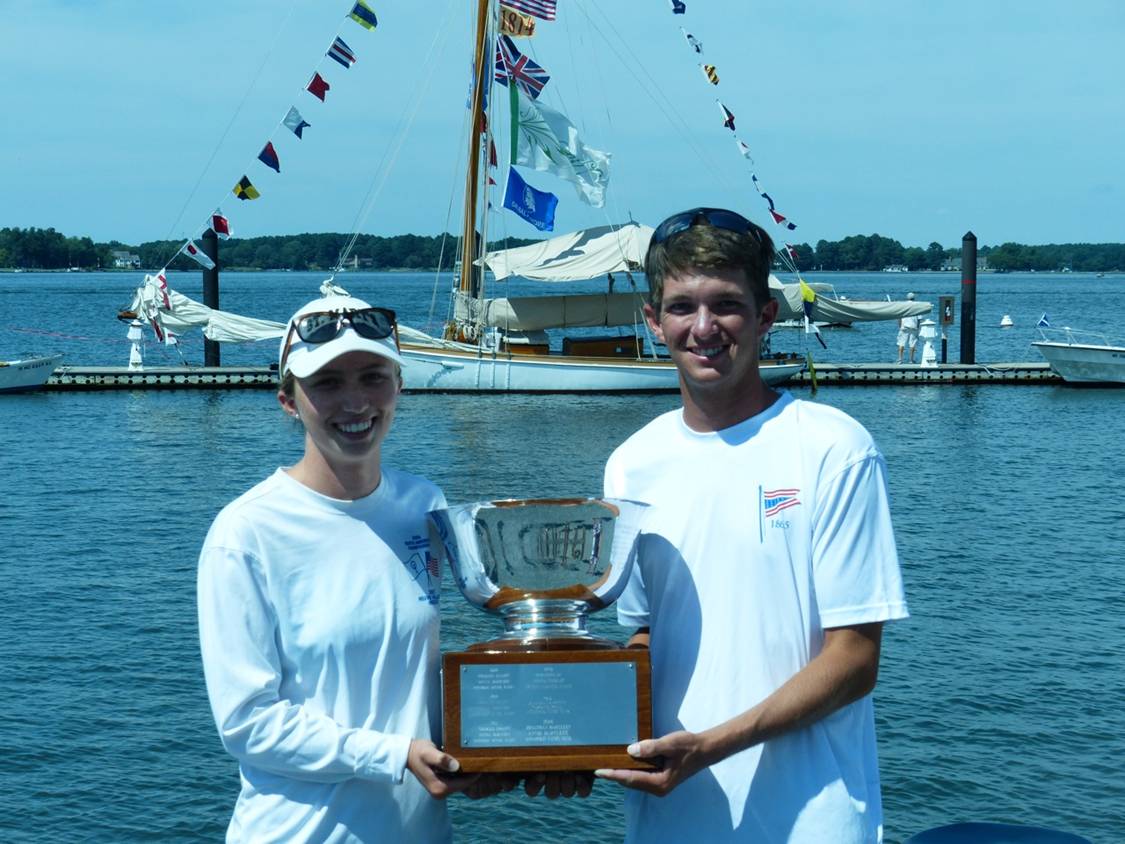 <![endif]>