Corsica River Yacht Club
Annual Regatta, July 27th, 2013
The wind was a bit stiffer than the forecast 5-10 as we headed out the Corsica River to the race area which is in the Chester River at the mouth of the Corsica.† The four Penguins that showed up were met with lots of whitecaps, indicating the breeze was more like 12-15.† After an inordinately long period of sailing around waiting for the course to be set, the Penguins started with 3 of the CRYC club 420ís.† Brittney Beigel, with sister Laura as crew, looked good in the breeze and motored past everyone upwind.† Will Wagner with son Dylan aboard also sailed strong to round the top mark second.† CRYC has an interesting trapezoidal course which uses an offset from the windward mark before turning downwind to a leeward mark placed to the left (looking upwind) of the starting line.† There was a separate finish line to windward of the offset mark.† Hank Krafft, celebrating his birthday, retired after the first race, as singlehanding with ~80 lbs. of ballast isnít so competitive in that breeze.† The Beigels took the first race, although Charlie Krafft and Donna McKenzie closed the gap on the approach to the finish, as the wind lightened just a bit.† Race 2 looked to be a repeat of race 1, with Brittney and Laura showing superior speed upwind, and leading around the first lap, until Charlie and Donna established a leeward overlap and prevented them from gybing to get to the leeward mark until they were just past the layline, and then traded places several times on the upwind leg before capitalizing on some lumpy conditions, and a strategic cover offered by a Comet sailor to stay ahead at the finish.† The third race was started in similar conditions, although a slight shift in the breeze towards the west, and a now strongly ebbing tide, made the course more one sided with a long time spent on port.† The races were over 40 minutes long, which in the breeze, was quite some distance for a† three leg course.† Fortunately, except for figuring out how to get away from the 420ís at the start, and the one incident with the Comet tail(ender) who kept interfering with us on one of the beats, the sailing was ideal.† After three races, the committee headed in, so that was the regatta for us.
| | | | | | | |
| --- | --- | --- | --- | --- | --- | --- |
| # | Skipper | Crew | 1 | 2 | 3 | Total |
| 9478 | Charles Krafft | Donna McKenzie | 2 | 1 | 1 | 4 |
| 9627 | Brittney Beigel | Laura Beigel | 1 | 2 | 2 | 5 |
| 9683 | Will Wagner | Dylan Wagner | 3 | 3 | 3 | 9 |
| 9320 | Hank Krafft | | 4 | DNS | DNS | 14 |
<![if !vml]>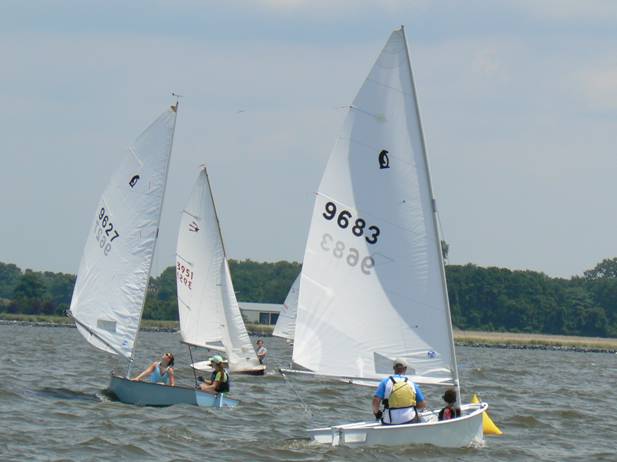 <![endif]>
Brittany and Laura Beigel leading at the windward offset mark, followed by WIll and Dylan Wagner.
<![if !vml]>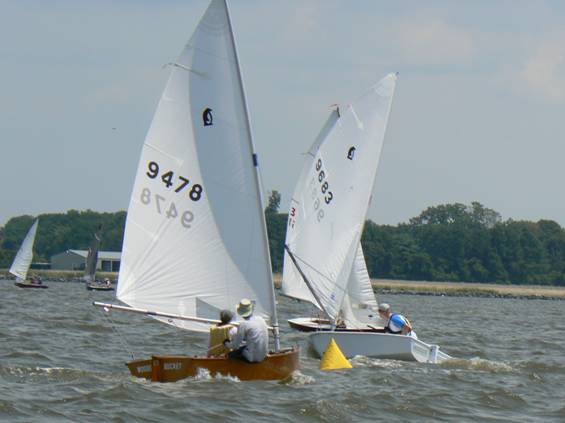 <![endif]>
<![if !vml]>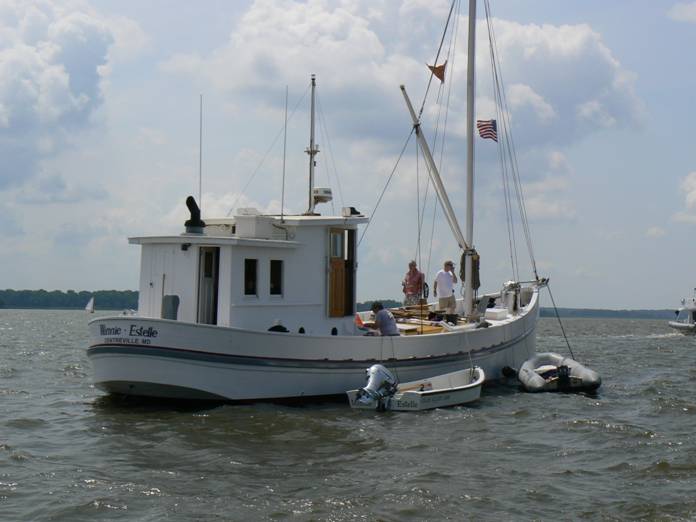 <![endif]>
The beautiful committee boat, the Winnie Estelle.
More photos at www.cryc.org